Mario Badescu Drying Mask: smells like doom, works like a charm!
Hey everyone! I'm in the middle of finals (hence my absence from the blogosphere) and as you guys know, I have problem skin. My skin is oily and acne-prone, somewhat sensitive. Mix that in with exam time and what do we get?
Stress acne!
Luckily, I have been relying on an old favourite to keep those pesky blemishes at bay: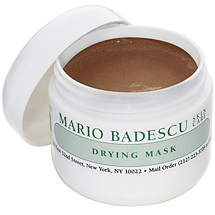 Mario Badescu drying mask
I have been using this for a few months now and am on my second pot of it. I use it about once or twice a week, depending on my skin. When my skin feels a little dry, I use a richer night cream the night before so that when I use the mask, it doesn't completely dry out my skin.
It is a sulfur-based product, like most of the acne-fighting products in Mario Badescu's range. Salicylic acid and Benzoyl peroxide treatments haven't worked for me as well as sulfur based treatments have, so I'm sticking with the Mario range for my acne-fighting needs.
The mask is clay-based, you apply it to your face (or just the problem areas - for me it's my cheeks and chin) and allow it to dry for 20 minutes, then rinse off. It hardens so try not to smile or eat while it's on because it will crack and crumble off.
Upon using, it immediately reduces the size of those throbbing red painful under-surface spots and refines the texture of my skin. My skin feels tight and refreshed afterwards.
I do not recommend this for you if you suffer from dry skin or normal to dry skin. If you're combination/oily, I suggest you only use it about once a week on your problem areas, since it can get too drying if used consistently all over the face.
Mario Badescu products are available to order at www.mariobadescu.com, and they are also sold at various retail chains in the United States such as Nordstrom, Ulta or BlueMercury Spa (where I buy mine from :)

I hope it helps!
Have a great rest of the week and weekend, everyone.