School's out! (I ran out of ideas for clever post titles)
Ahh... it feels so nice to finally be finished with exams for the next few months.
I have some posts planned for the upcoming weeks and they will be a lot more frequent :)
I am also really leaning towards doing some YouTube videos, so please feel free to leave me any suggestions for videos in the comments section below (or any advice on whether I should do it or not!)
My last exam was on thursday, so on friday it was time to unwind and go out with a couple of friends. I aimed for a mixture of comfortable, girly and edgy... it's up to you guys whether I succeeded in the combination haha :)
Warning: awkward poses ahead!
T-shirt: Alexander Wang
black vest: vintage and missing a button, which makes me love it even more.
coiled chain brooch on vest: Marquis & Camus
Skirt: Agnes B.
black opaque tights
Ankle boots: Miss Sixty
Necklace: Lisa Taubes (36' silver)
Eye make-up wise, I stuck to my ol' faithful combination of Style Snob eyeshadow by MAC over NARS Mykonos cream eyeshadow all over the lid and on the bottom lash line. A bit of MAC Naked Lunch eyeshadow in the inner corner along with MAC Twinks and Beauty Marked eyeshadows blended in the outer corner.
My eyeliner was MAC Feline and the mascara was ARTDECO "All in One". I got a sample of it when I went to Germany last summer and have been using it recently. It has great staying power.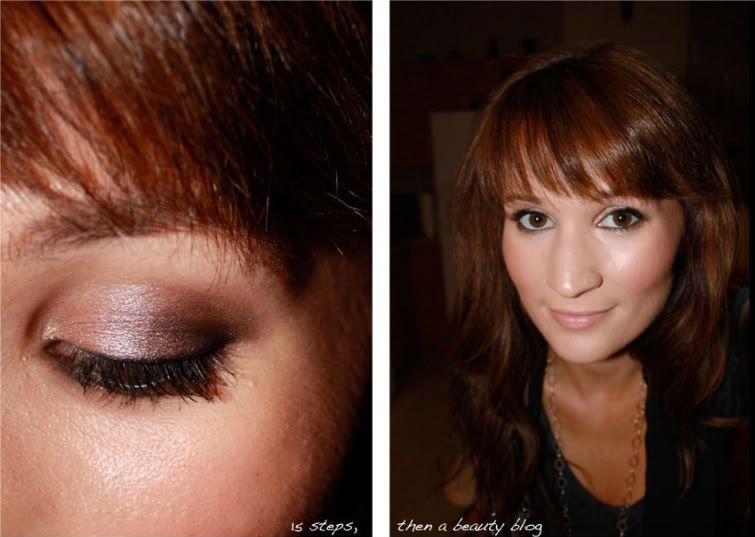 The rest:
Foundation: NARS Sheer Glow in "Santa Fe"
Concealer: Bobbi Brown colour corrector in "Light Peach" set with Benefit Powderflage
Laura Mercier translucent loose powder
Bronzer: NARS Laguna
Blush: NARS Deep Throat
Lipstick: MAC Freckletone
Lipgloss: MAC Underage
I hope you all enjoyed this post and don't forget to give me suggestions regarding a YouTube channel! Have a great start of the week and I'll be catching up a lot more often in the next few weeks...
I want to start (a late) "Project 365" which is to take a photo a day, for a whole year! This phenomenon actually started in the blogosphere in 2004 and it's still being done. Most people start on January 1st (for obvious reasons) but I only learned of it now and think it's a really cool idea. I will start posting on May 1st on a flickr account that I will link to on here, in case you'd like to see or participate :)
This is shaping up to be an exciting summer for my blog and I can't wait to share it all with you all.
Until next time...