!!!
Hi!
Now that I'm back from outer space (well, more like a long weekend in Las Vegas followed by a really hectic week)
I've got some time to regroup and to write some new blog posts.
If you recall, a few posts back I was frantically searching for the perfect bright summer red nail polish.
A couple of weeks after that faithful post, I got some things in the mail that made me super excited:
1) I went a bit overboard with an Essie order
(stemming from the fact that a ton of you guys recommended Lollipop by Essie as a perfect bright red and I happily obliged and ordered it, along with some other colours),
and
2) the nice folks at Eyeko sent me three of their cute new nailpolishes to try out,
one of which was - lo and behold - the perfect summer coral-red.
Needless to say, as I spread out all the new additions before introducing them to my overflowing nailpolish box,
I had a stupid giant grin on my face... don't they all look so pretty?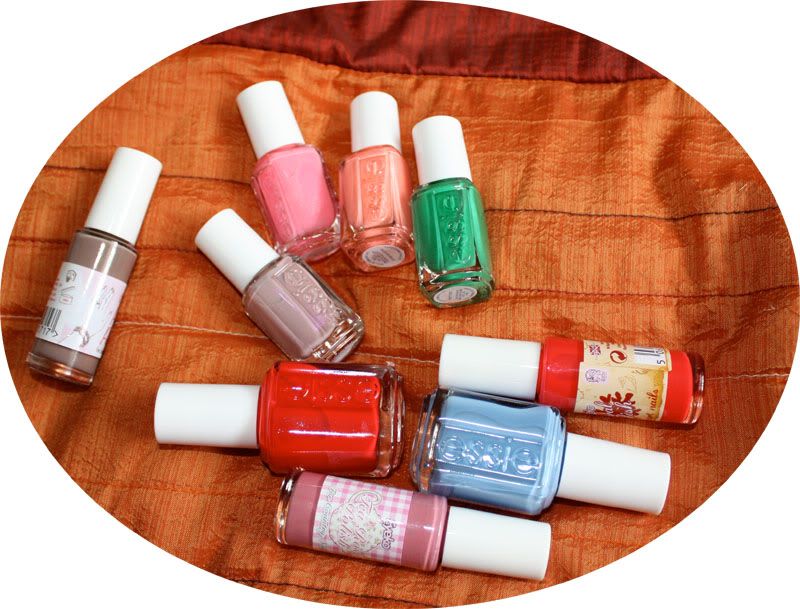 I got 2 full-sized bottles of Essie nail polishes, Lollipop and Lapis of Luxury.
I also got one of their little sample cubes of some of their summer collection shades
(Demure Vixen, Haute as Hello, Knockout Pout and Pretty Edgy),
and the three cute bottles of Eyeko nail polishes.
In the swatches you will see below, the Eyeko polishes only required one coat,
while the Essie swatches contain 2 coats.
I also did a comparison of Eyeko Posh Polish and Chanel's Particuliere since people were saying they're pretty close dupes.
Keep reading below and see for yourself :)
Starting off with my beloved bright red shades and Lapis of Luxury, a stunning periwinkle blue that I've been wanting for a long time: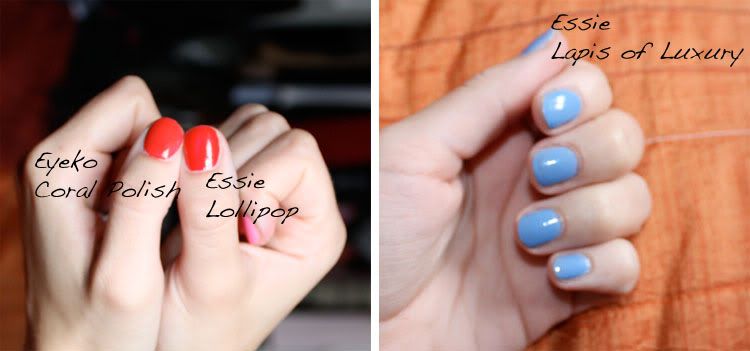 Eyeko Coral Polish is slightly more on the coral/orange side than Essie's Lollipop,
but they are both exactly what I was looking for.
Bright, punchy reds that will look killer with some beige and black clothes (aka pretty much my entire closet).
Essie's Lapis of Luxury needed 3 coats to be completely opaque,
I got lazy and only did 2 in this photo.
I've been wearing it for the past few days and have already gotten a ton of compliments on it. It's an unusual colour but unusual in the very best way.
Would look amazing on the toes as well, paired with some black/silver sandals.
Next up is the much-awaited comparison: Eyeko Posh Polish vs. Chanel Particuliere
Both polishes were only swatched with one coat.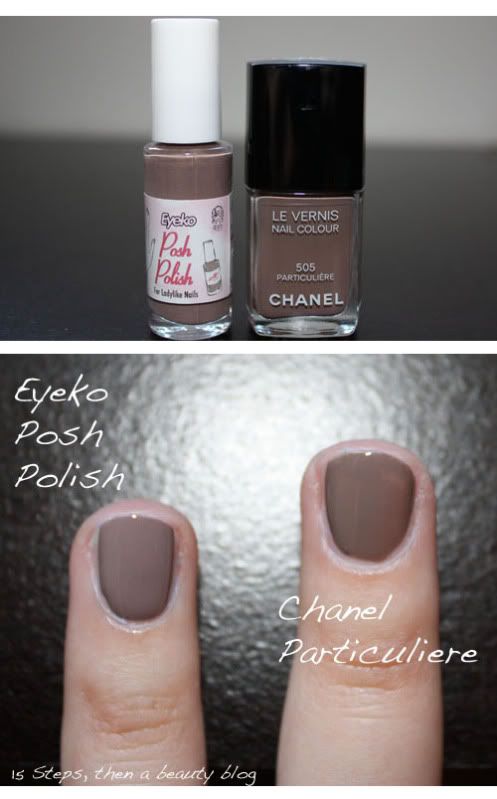 As you can see, they are not EXACT dupes, but they are pretty damn close. Application-wise, Eyeko Posh Polish went on perfectly after just one coat, whereas Particuliere would need a second coat for the same opaque coverage. The Eyeko nailpolish formulation is definitely on the thick side, which I happen to like.
Particuliere is warmer and more brown, Posh Polish is a bit more on the taupe/gray side.
Both beautiful shades nonetheless and you achieve the same look with either one. Plus, the Eyeko is about 1/5 of the price, so if that's not an incentive, I don't know what is :)
Next up is a full hand of swatches: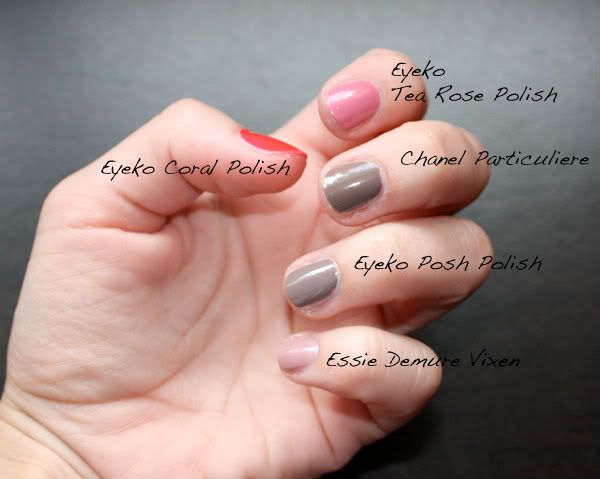 You can see the difference between Posh Polish and Particuliere better from farther away. There are also 2 other colours in the mix, Essie's Demure Vixen and Eyeko Tea Rose. They're great essential shades - a medium pink and a light pinky taupe, but not as exciting as the next hand:
Behold - summer nails extravaganza!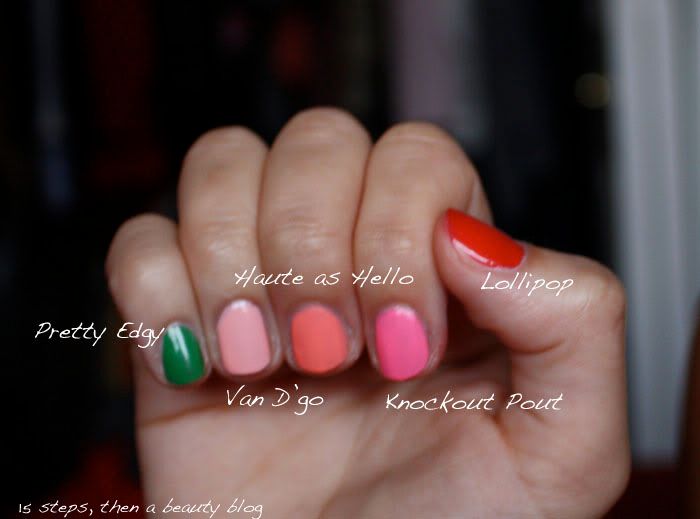 I am so in love with these Essie colours! I've owned Van D'go for a couple of months now but I wanted to see how it compared to Haute as Hello. They are on opposite ends of the peachy spectrum. I thought I'd hate Pretty Edgy since green nails are not my thing - even mint nails don't fascinate me as much as they have everyone else - but I was pleasantly proven wrong. I wouldn't wear it on my hands but I have it on my feet now and it looks so cool with a pair of gold gladiator sandals.
With all these new additions, I'd say I'm pretty set for summer... now please punch me if I buy another nail polish until the fall :)
I hope you enjoyed this blabbering post... as you can tell, I get far more excited about nail polish than any normal human should.
Until next time,
Sandra
PS:
Eyeko nail polishes are available on
www.eyeko.com
or at drugstores if you're in England.
Essie nail polishes are available on
www.essieshop.com
or at Ulta if you're in the United States, otherwise you can search eBay and it will never prove you wrong :)