Proclaiming my love for Mulch eyeshadow... and Outfit Of The Day
I had been so preoccupied with my NARS Pleasures of Palette lately, that I had forgotten about some other more important palettes - my MAC ones!
So before heading out on the weekend I slapped on some Urban Decay Primer Potion (which has become an absolute necessity since the weather here has been very hot and humid - oily skin's best friend),
I then added some NARS Mykonos cream eyeshadow as a base, focused along my lash line, and with a MAC 217 eyeshadow brush, I applied MAC Mulch eyeshadow all over the lid and blended it towards the crease and on the lower lash line.
I applied MAC Feline Power Kohl eyeliner on the lash line and waterline for good measure, followed by a couple of good coats of Fresh Supernova mascara (which is very unimpressive, but more on that later.)
Ta da! Finished look:
Mulch is just so beautiful and rich, it really holds its ground used on its own all over the lid. Such a simple look!
For the rest of the face, I stuck to the basics - just the ol' faithful YSL Teint Resist foundation and Benefit Hoola Bronzer, followed by NARS Deep Throat blush and a little bit of lip gloss.
I also wore out one of my favourite dresses.
It's so versatile and of the softest thin silk material. I've worn it as a tunic, as a dress 2 different ways, and since it's so thin it can even be tucked into a thick pencil skirt and be worn as a blouse.
I've had it for 2 years now, and I still love it. I am definitely not a "one time wear" clothing person. I like to invest in what I wear and find exciting new ways to wear it :)
This time I spiced it up a bit with a belt and I added my favourite chain brooch to the side for a bit of edge. I went with the pretty patterns at the bottom of the dress and paired it with some textured canvas heels.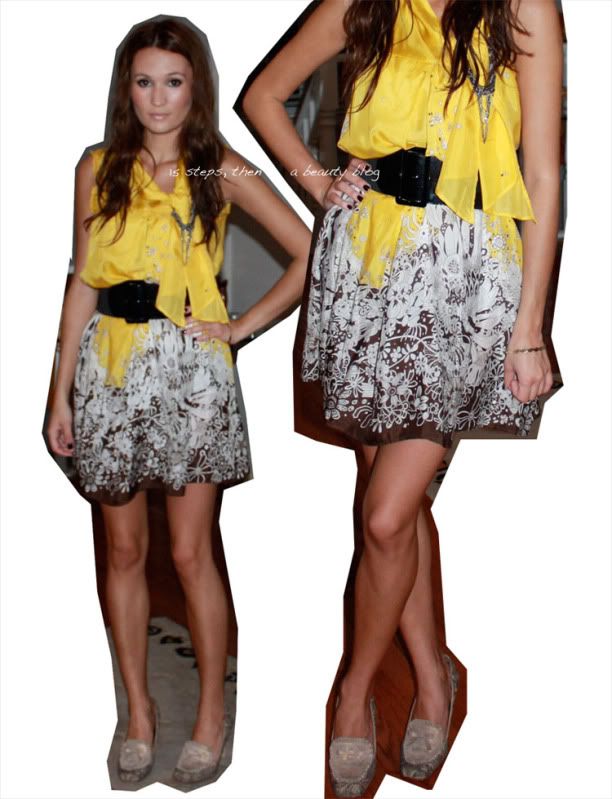 Dress: Miss Sixty (Summer 08 collection)
Belt: Bebe (just any old thick patent belt will work)
Brooch: Marquis & Camus (the series of chains you see on the right side of my chest)
Shoes: vintage (I stole them from my mother's old shoe stash haha)
If you have a dainty dress that you love, but you think the pattern is too "out there" to wear out again - think twice! Spice it up with a thick belt, a vest, blazer or chunky jewelry. Some items are too pretty to just be worn once :)
Outfit recycling FTW.
Love,
- Sandra