Hi!
I have been slacking, I know :(
Here's the story of what has been keeping me out of tune with my passion for cosmetics, skincare & all things fashion: another passion of mine, to travel!
I am going to England and Spain at the end of August with a couple of friends and I have been working like a mad woman during the day (I have a part-time job in retail while I'm still in school, so you can imagine how many hours I need to spend at that place in order to afford my trip haha).
When I get home, I've been scouting the Internet for tips and tricks, places to stay, places to see, things to do, etc. while I'm going to be traveling.
Any fun tips for things to do in London and Barcelona, please send 'em my way :)
Now excuses aside, I did manage to get out of the house a couple of times last week and I've been obsessed with cool pinks. I'm taking a break from the corals and golds that seem to take over every summer...
Let's begin with the eyes:
I started with my saviour eye product in the summer - Urban Decay Primer Potion.
I despise the packaging... it's ugly and inconvenient, but sadly it's the only thing that works for my oily eyelids.
I have been hearing good things about the NARS eyeshadow primer as well...
have any of you tried that one? How does it compare to the UDPP? I'm dying to make the switch!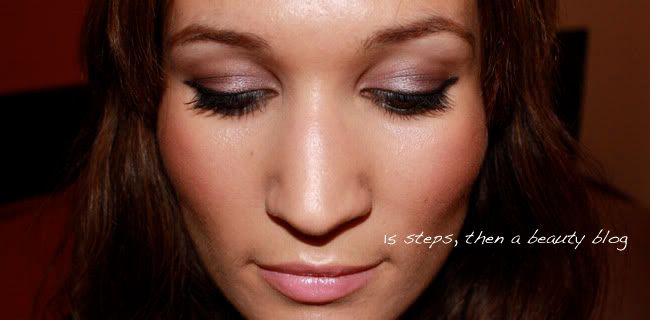 Next I used NARS Mykonos Cream Eyeshadow and smudged it close to the lashline,
followed by MAC Style Snob Eyeshadow all over the lid.
In the inner corner I used the white eyeshadow in my Helena Rubinstein "Night Flicker" Eyeshadow Duo (very similar to Vellum by MAC, a white with blue-purple duochrome)
Finished things off with NARS Demon Lover eyeshadow in the outer corner and gently through the crease.
Eyeliner: MAC Blacktrack Fluidline
Mascara: Fresh Supernova
Keeping up with the cool colour theme...
Bronzer: Benefit Hoola
Blush: MAC Well Dressed and a touch of MAC Redhead MSF
Lipstick and Lipgloss: Chanel Rose Comete & MAC Underage
For foundation, I opted for my favourite "going out" combination as of late:
two pumps of YSL Teint Resist in #5 (which is pretty much HG status... I'm in love), and one pump of MUFE HD in #123.
They balance each other quite well, Teint Resist gives it great lasting power and the MUFE gives the colour more depth since when I am tanned, Teint Resist foundation is too light for me. I also used a touch of Laura Mercier Translucent Powder to set.
I am going to close things off with a random question for you all - have any of you tried La Mer Tinted Moisturizer? I have a random desire to try it out.
I've been really into mixing my YSL Teint Resist foundation with my moisturizers (either Cetaphil or my Clinique Moisturizing Gel), and while I always thought I'd never be the tinted moisturizer type, my skin has been in great shape lately and I'm thinking I may pull it off!
So - tinted moisturizers... La Mer... yay or nay? Feel free to give me your recommendations,
and until next time (which hopefully will be sooner rather than later *blushes*)
- Sandra